Advice from Ira Glass to Journalism Graduates: "Amuse Yourself"
Here's a follow-up to my earlier post about Ira Glass, which included the four-part video summarizing his thoughts on storytelling. He spoke on Thursday at the CUNY Graduate School of Journalism 2012 graduation. Below is the full video of his 28-minute commencement address. Glass's speech was peppered with amusing anecdotes and thoughtful advice.
Here's a summary story about his speech by Lauren Rothman, CUNYJ Class of 2013.
My summary of the two primary points in his talk:
Amuse Yourself. Find journalism stories that intrigue you. Do work that amuses you. Even when doing routine stories, focus on finding elements that you find engaging, humorous or stimulating in some way.


Just Start. Don't wait for others to give you permission to do what you want to do. Start writing. Publish things. Do the work you want to do, whether others officially approve of it or not. Just start.
Here are two short audio excerpts if you'd prefer not to watch the entire video.
A few additional Glass quotes, selected by April Burbank:
"You're not going to make any money. You might as well have fun."

---

"Go into the world. Make something interesting for the people. Make something useful."

---

"Being a journalist is about harnessing luck… I wander around in the rain for a long time until lightning strikes."

---

"Don't wait for permission from anyone to make the work you want to make."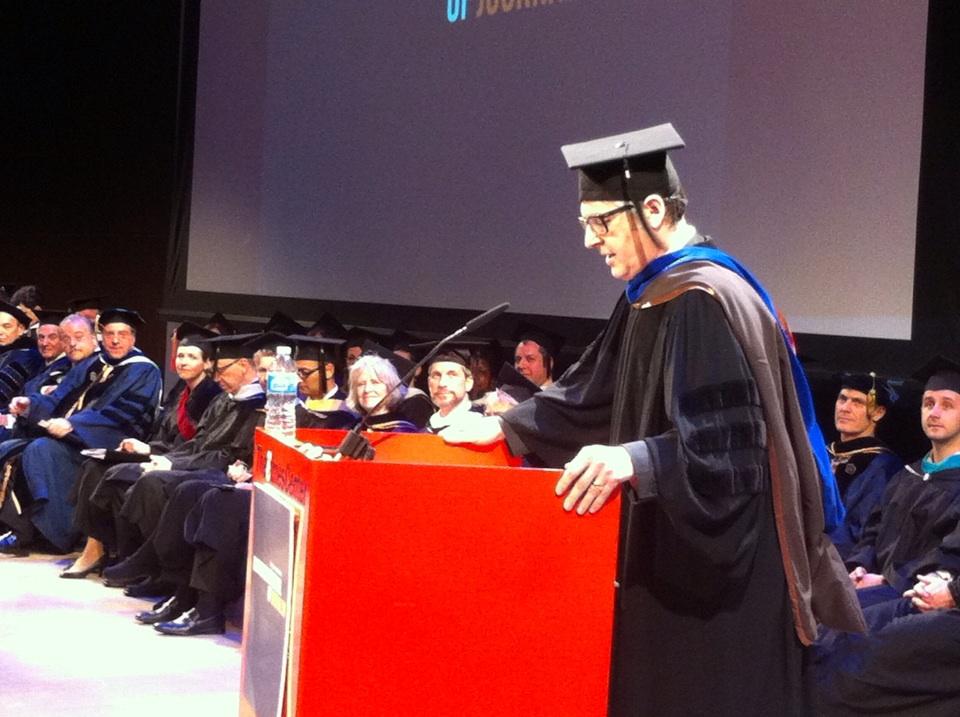 Photo above of Glass speaking comes from Lauren Rothman's Twitter account